Frightening, isn't it? When a prospect arrives at your website, you've got eight seconds or less to capture their attention, convince them that you solve their problems, and eventually convert them. That's a lot to do in eight seconds and not the whole story, but sadly people do judge a book by its cover.
Your website isn't just about the first eight seconds, but it starts by building on that all-important currency in B2B—trust. It has to be easy to understand and yet dive deep and answer all the questions your users, buyers, decision-makers and blockers might have.
At Kohde, we have developed an 8-second audit to help our customers understand their website's strengths and weaknesses.
So, how does it work?
Ready?
Tick, tick, tick. Time is ticking.
Load time (0 seconds and counting)
0–4 is your load time. Keep that in the milliseconds if you can. Fail to do that, and you are hoovering up your attention span. That back button or new tab is seconds away, and your prospect is—boing!—gone.
Between 0 and 5 seconds, website conversion rates drop by an average of 4.42% with each additional second of load time. (Portent, 2019) If you want to get all technical, structure your HTML to load critical, above-the-fold content first.
For Pinpoint we got them down to 414ms with an average broadband or cellular connection and 1.36s for Azur for full page load times.
Nice. 7 seconds to spare.
Let's reset the clock back to 1.
Branding and positioning (2–4 seconds)
Unless your prospect is coming in through the backdoor via your evergreen blog content, or via PPC and your landing page, chances are your newly minted prospect is coming in through the front door—your homepage.
They haven't waited, but we only have seven seconds left. (Gulp.) Your branding, positioning statement and hero illustration, therefore, have to say so much in so little time.
Let's start with your branding. This means your visual identity, choice of colour, typeface and brand architecture—unique and ownable assets that don't scream sea of same. These little cues say 'We are different, we mean business, and we are the business.' These aren't scrutinised. They are scanned. But scan we do. You might not believe it, but your prospects are pretty sophisticated and make judgements in milliseconds.
Remember all those tabs open? 'Ooo! These folk look different and their positioning is so clear. I know this is for me, they describe what problem they solve and for whom, and the accompanying hero graphic captures their proposition in an instant.'
Boom. We're hanging around.
The first scroll (4–8 seconds)
A scroll wheel starts spinning or an index finger starts gliding across smooth metal, plastic or glass.
You've captured their attention. We're going below the fold. Now don't blow it.
Here are the assessments your prospect will start making as soon as they start scanning your homepage.
Is this for me and do you describe my daily pain? Does it solve my problem and are the benefits clear?
Are there clear signposts in the main navigation and page content to help me find out more?
Do I get a sense of what you stand for, who your people are and what your product looks like?
Are there any metrics to support their claims and are there any Trustpilot, Capterra, and G2 rankings for peer validation?
Are there people like me using your product, and can I see testimonials or case studies?
If I want to download a trial version or talk to someone about a demo, is it easy to find and can you put me in the driving seat of when I chose to talk to you?
These are the signals you need to communicate in a scan and a scroll of your homepage. Organise these carefully. Ensure a clear and logical story unfolds.
8 seconds and beyond
Your website isn't just about the first eight seconds. It's about eight seconds and beyond.
But, fail the first eight seconds, though, and fail the rest.
Tick, tick, tick.
Apply for your website audit today
What problem are you solving, and who for? How can your site build trust with prospects?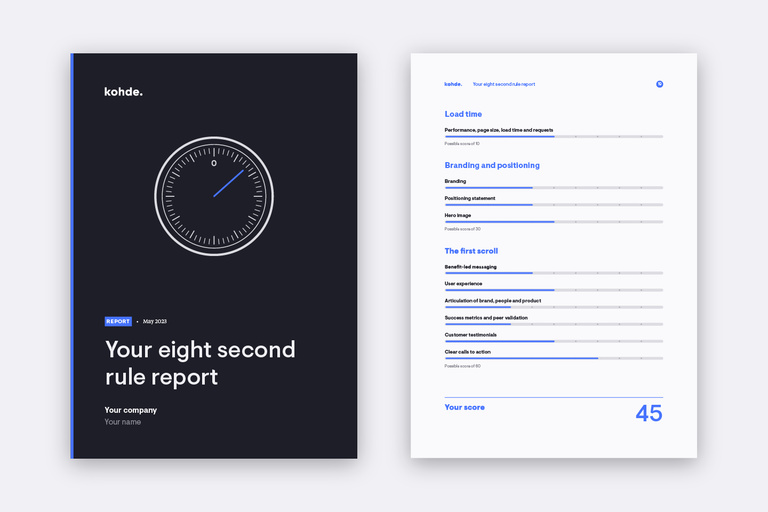 Sometimes the simplest things can make a dramatic difference. We'll cast a critical eye on how customers engage with your website and brand and come back with some starting points.